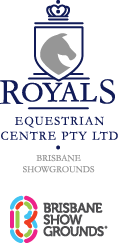 ROYALS directors, Joshua Smith and Damian Todd, are outstanding and experienced horsemen who combine their exceptional skills and passion for horses to deliver a comprehensive range of lessons across various equestrian disciplines, from novice to experienced riders. Josh and Damian also specialise in breaking in, training and correcting the behaviours of horses, including performance horses, high value race-horses, horses sold to Sheiks and dressage horses.
Riders, particularly children, are taught the discipline and responsibility that are integral to good horsemanship and ownership of horses. In addition to technical riding skills, they are taught how to safely interact with and care for horses so they develop a genuine love and respect for the animals and sport. The importance of developing a meaningful sense of connection between riders and horses is emphasised as they work together through non-verbal communication. Many of those techniques are recognised to promote improved communication skills in general life, particularly for teenagers. In addition to fundamental riding techniques including walk, rising trot, seated trot and canter, ROYALS Riding School, teaches students:
Safety around horses
• Balance and Co-ordination
• Ability to take directions
• Discipline
• Saddling
• Horsemanship
• Grooming
• Horse Care
• Handling
• Horse Behaviour
• Saddling
• Tack Care
Health & Safety
The health and safety of both riders & horses is of paramount importance to ROYALS and its directors. Any mistreatment of ROYALS horses will not be tolerated. Although riders are encouraged to use their own helmet and boots, a range of sizes in each will be available to use at no extra charge. All horses used by ROYALS have been fully vaccinated against the Hendra Virus. If riders wish to bring any horse within the Brisbane Showgrounds, proof of the horse's vaccination against Hendra Virus, with full immunity, must first be provided to ROYALS. Any horse that cannot establish proper vaccination will not be permitted to enter the Brisbane Showgrounds.