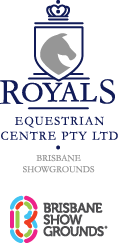 Royals Equestrian Centre was founded in September 2014 and is led by Director, Joshua Smith, and Senior Instructor, Kylie Hammond.
Joshua and Kylie collectively hold over two decades worth of riding experience and bring with them a unique and eclectic skillset. Joshua specialises in horse breaking, dressage, corrective behaviours, liberty and endurance, and Kylie has successfully campaigned horses in dressage, show jumping and combined training in her home country of Zimbabwe.
The Royals team believes all good horsemanship commences with the basic principles of respect, discipline and responsibility. As such, in addition to technical riding skills, clients are taught how to safely interact with and care for horses, in the quest to developing a genuine love and respect for both the animals and sport. The importance of developing a meaningful connection between horse and rider is emphasised in all lessons, from liberty and groundwork, through to the more technical elements of dressage.