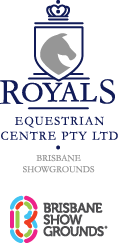 Welcome to Royals Equestrian Centre, also known as Royals Riding School.
As the fourth equestrian centre in the world to be located so close to a capital city – the others being New York, London and Sydney – ROYALS EQUESTRIAN CENTRE offers beginners and experienced riders an enviable riding oasis located within the Brisbane Showgrounds.
Given its fringe CBD location, ROYALS provides a unique opportunity for residents of Brisbane to participate in horse riding and equestrian events without having to travel to the outskirts of Brisbane and beyond. ROYALS is an enviable feature of residential development being undertaken in and around the Brisbane Showgrounds.
Royals riding lessons are held within the generously sized round yard, with its fresh sand surface and refurbished fencing. While young children participate in riding lessons within the safe surrounds of the Kiddies Arena. Subject to availability, coaching of experienced riders may be conducted on the RNA Main Arena. From time to time specialist coaches are engaged to provide coaching and training to experienced riders.